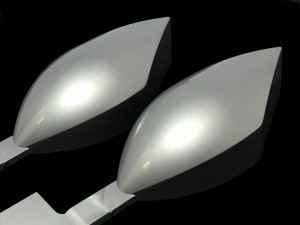 Compromise; the expedient acceptance of standards that are lower than is desirable.
If your looking for metal-like aesthetics but don't want the cost, weight and maintenance requirements of metal components , we don't think you should compromise.
As part of our constant strive to be ahead of the curve in Injection Moulding technology, we are trialling a new range of materials which give a high gloss metallic finish to final mouldings. These materials create a premium, metal-like aesthetic, from a light weight, cost effective and maintenance free plastic component.
In order to get the best from the material, and ensure an imperfection free moulding, the DLS Plastics design team are able to create a mould tool design that is optimised for this type of material. Creating a plastic moulding with a metallic finish that is smooth and does not have flow marks is a difficult process, but is one that the highly trained design team on site at DLS Plastics, together with the experienced mould room staff, are mastering.
If you have a project that you think would benefit from metallic plastic components, contact our design team today on 01476 564549.