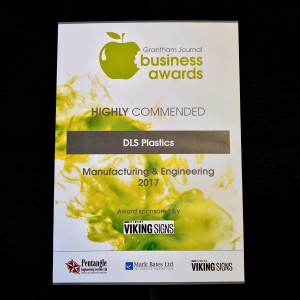 The Grantham Journal Business Awards were recently held in St. Wulfram's Church Grantham, to recognise and celebrate local business success. Guests were entertained by awards host Melvyn Prior (BBC Radio Lincolnshire), and magician Max Francis, whilst music was provided by Moonstone String Trio.
All 3 companies from each of the 11 judgement categories were assessed by judges and sponsors during a company visit and provided videos to show off their individual attributes. These short films were then shown at the awards ceremony to give everyone present an understanding of each business' background.
DLS Plastics were fortunate to be awarded 'Highly Commended' status among tough competition in the Manufacturing and Engineering category. Judges were impressed with DLS' manufacturing facilities, engineering prowess and innovative approach to developing and supplying solutions for new and existing customers.
We would like to take this opportunity to thank The Grantham Journal, Viking Signs and everyone else who was involved for considering DLS Plastics – we look forward to being involved with future awards.