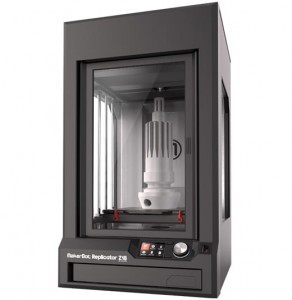 3D printing is a process in which materials are joined or solidified under computer control to create a three dimensional object. The technology was originally patented in the early 1980's by an inventor called Chuck Hull who envisaged a system that could create 3D items by building up layers using a cross sectional pattern of an item. Today the 3D printing market is worth $8 billion and the applications of 3D printed solutions are endless. Everyone, from doctors creating organs, skin and bones to NASA 3D printing pizzas for Astronauts to eat, are realising the potential of the fast and efficient process created by 3D printers.
As part of DLS Plastics' constant strive to provide the best in product development, we now have a Makerbot Replicator Z18 3D printer on site. Having this facility available, allows our design department to place a 3D plastic model of a future product in a customer's hand to ensure it meets requirements without having to produce an expensive and time consuming injection mould first. This 3D printer in particular is able to produce components as big as 30cm long x 30cm wide and a massive 45cm high, all whilst using the minimal amount of material required. This, combined with the expertise of our in house designers, allows for a much quicker and more efficient product development and fine tuning process – meaning we can deliver perfectly honed final products quicker than ever.
To discuss your injection moulded product requirements with our design or sales team, call today on 01476 564549.