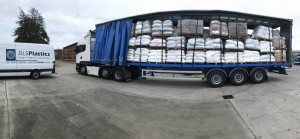 The UK uses over 5 million tonnes of plastic each year, of which an estimated 29% is currently being recovered or recycled. The government target for plastic recycling in 2020 is set at 57%, meaning that both household and commercial and industrial (C&I) consumers need to be more proactive than ever when it comes to recycling plastic materials and reducing land fill waste.
DLS Plastics Ltd has always endeavoured to recycle as many materials as possible, an approach which can be identified and described best using the DEFRA (Department for Environment, Food & Rural Affairs) Waste Hierarchy.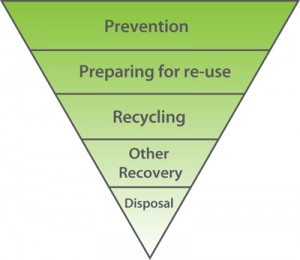 Source: https://www.gov.uk/government/uploads/system/uploads/attachment_data/file/69403/pb13530-waste-hierarchy-guidance.pdf
Prevention: 
One of the biggest factors to consider when reducing the environmental impact of producing plastic components, happens long before the product has even been physically moulded. Consciously designing components to require less material input not only reduces the amount of material consumed, but also helps to reduce the energy required during the moulding process as well as providing cost reductions for manufacturers and consumers. The design team on site at DLS Plastics optimise mould tools to use the minimum amount of material to achieve the perfect moulding. This approach combined with the knowledge and efficiency of the injection moulding machine operatives means minimal wastage and material usage.
Preparing For Reuse: 
Another strategy to consider when reducing plastic consumption, is to evaluate whether certain materials, components or parts can be used in other applications rather than being disposed of. With so many different designs and components created since DLS Plastics Ltd began trading in 1973, often it is the case that a requirement for a new product can be fulfilled using a component or material that was originally manufactured or sourced for a different application. This also applies to other aspects, not just plastic components and materials. For example, new mould tools can be produced using material and components sourced from obsolete mould tools.
Recycling
By far the most important level of the waste hierarchy to consider when reducing the environmental impact of producing plastic components, is recycling. Inevitably there will always be a level of 'consumption' in manufacturing that cannot be avoided. For example mouldings that are manufactured but never get used by customers, pre-production sample mouldings where the tool is subsequently tweaked or mouldings that are faulty. It is important to see the value of the recycled material, even if it does not equal the original value of the raw material. Using 3 on site regrind machines, DLS are able to convert moulded components back into granulated materials ready to be reused in injection moulding machines. Any material that cannot be reused by DLS, because moulding applications specify virgin material use only, is supplied to a network of external plastic recycling specialists to be used by others.
A recent boost to the DLS Plastics recycling efforts is the advent of a semi automatic baling machine. This allows for plastic packaging materials such as polythene bags or pallet stretch wrap, to be collected and baled before being supplied to external plastic recycling specialists to be shredded, recycled and reused by other manufacturers in various applications.
Other non-plastic recycling measures taken on site at DLS Plastics include:
Baling and recycling of cardboard boxes and paper
Recycling of used lubricants and machine oils
Recycling scrap and metal components
Recycling damaged wooden pallets
Other Recovery
The other recovery level of recycling refers to incineration with energy recovery, anaerobic digestion, gasification and pyrolysis. All of these processes do not take value in the make up of the recycled materials, but in what product or energy can be made as a by-product of breaking the materials down – for example heat energy or bio fuel. This stage of recycling is handled by a waste management company externally of DLS Plastics who collect and separate waste before recycling or disposing of it.
Disposal 
Inevitably, not all materials are able to be recycled and until technology comes along that can change that, these materials will end up in landfill sites. The landfill waste produced at DLS Plastics is kept to an absolute minimum via the measure outlined above.
As plastic manufacture and oil consumption grows in the UK, its is becoming more and more important to realise the value of recycling materials and making good use of items that still have plenty of life left. DLS Plastics Ltd will always strive to be at the forefront of recycling measures and keep its finger on the pulse when it comes to being environmentally conscious and reducing the consumption of natural resource based materials.